About Long Island Scientific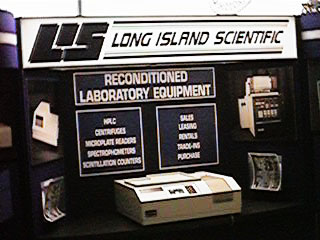 At Long Island Scientific, we sell and repair most makes and models of Liquid Scintillation Counters, Gamma Counters, Centrifuges, Spectrophotometers and Microplate Instrumentation. Our extensive experience has given us a distinct advantage over our competition. No one can match the level of service and technical support that we offer to our customers.
We handle all types of transactions, including buying, selling, trading, renting and leasing. We offer competitive prices, extended warranties, local service contracts and complete guarantees of satisfaction. If you are not happy with your purchase, we will always do whatever is necessary to make things right. Our mission is to provide you with the highest quality equipment at competitive rates, with the best service and support available. Our employees are extremely knowledgeable and can provide you with the best possible solutions to your equipment and service requirements.
With more than 30 years in business, Long Island Scientific is one of the oldest and most experienced providers of reconditioned laboratory equipment in the US. We are also a third-party service company providing professional field repair, installation, calibration and training for many types of laboratory equipment.
Our facility is situated on the north shore of eastern Long Island, New York - conveniently located within easy driving distance of all laboratories between Washington, D.C. and Boston, MA. Our 6,000 square foot facility houses our sales offices, service shop and warehouse space for our inventory of laboratory equipment. We have the unique ability to provide all of the necessary services to help get your equipment operating in your lab: delivery, installation, training, customer support and field service contracts.